In 1903, a woman called Lizzy Magie patented the board game that we now know as Monopoly – but she never gets the credit.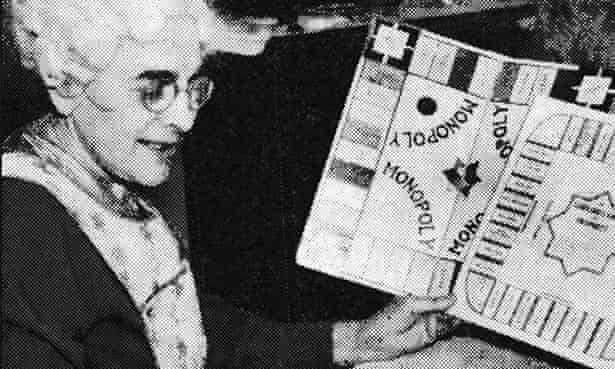 One night in late 1932, a Philadelphia businessman named Charles Todd and his wife, Olive, introduced their friends Charles and Esther Darrow to a real-estate board game they had recently learned. The game didn't have an official name: it wasn't sold in a box, but passed from friend to friend. But everybody called it 'the monopoly game', but in fact it was the game designed by Elizabeth Magie.
Together with other friends, they played many times. One day, despite all of his exposure to the game, Darrow – who was unemployed, and desperate for money to support his family – asked Charles Todd for a written copy of the rules. Todd was slightly perplexed, as he had never written them up. Nor did it appear that written rules existed elsewhere.
In fact, the rules to the game had been invented in Washington DC in 1903 by a bold, progressive woman named Elizabeth Magie. But her place in the game's folk history was lost for decades and ceded to the man who had picked it up at his friend's house: Charles Darrow. Today, Magie's story can be told in full. But even though much of the story has been around for 40 years, the Charles Darrow myth persists as an inspirational parable of American innovation – thanks in no small part to Monopoly's publisher and the man himself. After he sold a version of the game to Parker Brothers and it became a phenomenal success, eventually making him millions, one journalist after another asked him how he had managed to invent Monopoly out of thin air – a seeming sleight of hand that had brought joy into so many households. "It's a freak," Darrow told the Germantown Bulletin, a Philadelphia paper. "Entirely unexpected and illogical."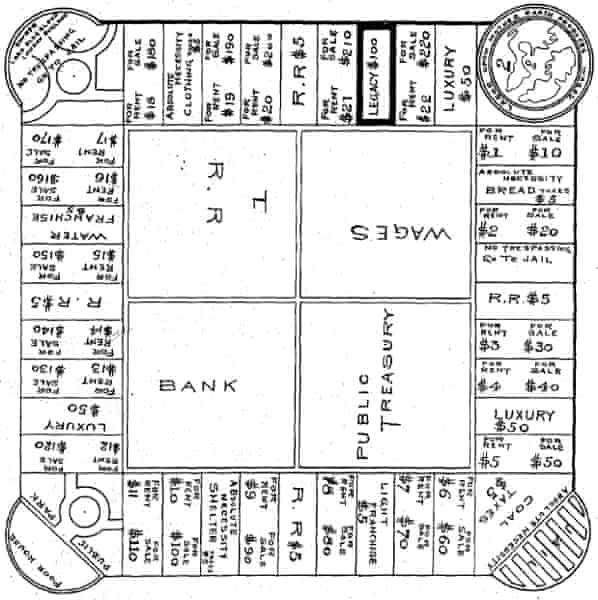 To Elizabeth Magie, known to her friends as Lizzie, the problems of the new century were so vast, the income inequalities so massive and the monopolists so mighty that it seemed impossible that an unknown woman working as a stenographer stood a chance at easing society's ills with something as trivial as a board game. But she had to try.Advertisementhttps://fec691213a2505a052d58c4482c948e4.safeframe.googlesyndication.com/safeframe/1-0-38/html/container.html
Night after night, after her work at her office was done, Lizzie sat in her home, drawing and redrawing, thinking and rethinking. It was the early 1900s, and she wanted her board game to reflect her progressive political views – that was the whole point of it.
She lived in Prince George's county, a Washington DC neighbourhood. Lizzie shared her house with a male actor who paid rent, and a black female servant. She was also intensely political, teaching classes about her political beliefs in the evenings after work. But she wasn't reaching enough people. She needed a new medium – something more interactive and creative.
There was one obvious outlet. At the turn of the 20th century, board games were becoming increasingly commonplace in middle-class homes. In addition, more and more inventors were discovering that the games were not just a pastime but also a means of communication. And so Lizzie set to work.
She began speaking in public about a new concept of hers, which she called the Landlord's Game. "It is a practical demonstration of the present system of land-grabbing with all its usual outcomes and consequences," she wrote in a political magazine. "It might well have been called the 'Game of Life', as it contains all the elements of success and failure in the real world, and the object is the same as the human race in general seem[s] to have, ie, the accumulation of wealth."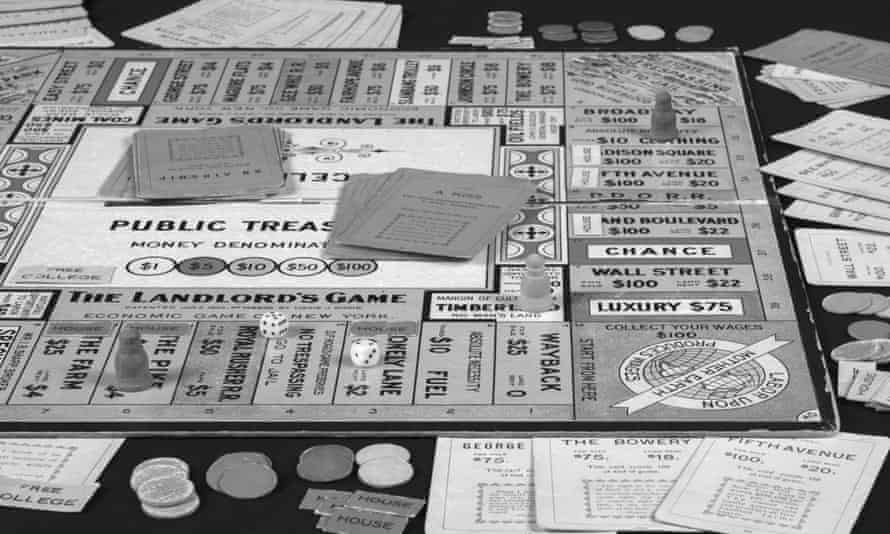 Lizzie's game featured play money and deeds and properties that could be bought and sold. Players borrowed money, either from the bank or from each other, and they had to pay taxes.
From its inception, the Landlord's Game aimed to seize on the natural human instinct to compete. And, somewhat surprisingly, Lizzie created two sets of rules: an anti-monopolist set in which all were rewarded when wealth was created, and a monopolist set in which the goal was to create monopolies and crush opponents. Her vision was an embrace of dualism and contained a contradiction within itself, a tension trying to be resolved between opposing philosophies. However, and of course unbeknownst to Lizzie at the time, it was the monopolist rules that would later capture the public's imagination.
In total, the game that Darrow brought to Parker Brothers has now sold hundreds of millions copies worldwide, and he received royalties throughout his life.
Lizzie was paid by Parker Brothers, too. When the game started to take off in the mid-1930s, the company bought up the rights to other related games to preserve its territory. For the patent to the Landlord's Game and two other game ideas, Lizzie reportedly received $500 — and no royalties.
At first, Lizzie did not suspect the true motives for the purchase of her game. When a prototype of Parker Brothers' version of the Landlord's Game arrived at her home in Arlington, she was delighted. In a letter to Foster Parker, nephew of George and the company's treasurer, she wrote that there had been "a song in my heart" ever since the game had arrived. "Some day, I hope," she went on, "you will publish other games of mine, but I don't think any one of them will be as much trouble to you or as important to me as this one, and I'm sure I wouldn't make so much fuss over them."
Eventually, though, the truth dawned on her – and she became publicly angry. In January of 1936 she gave interviews to the Washington Post and the Washington Evening Star. In a picture accompanying the Evening Star piece, she held up game boards from the Landlord's Game and another game that had the word MONOPOLY written across its center four times in bold black letters; on the table in front of her was the now-familiar "Darrow" board, fresh out of the Parker Brothers box. The image of Lizzie painted by the reporter couldn't have been clearer. She was angry, hurt and in search of revenge against a company that she felt had stolen her now-best-selling idea. Parker Brothers might have the rights to her 1924-patented Landlord's Game, but they didn't tell the story of her game invention dating back to 1904 or that the game had been in the public domain for decades. She had invented the game, and she could prove it.
It was to little avail. Much to Lizzie's dismay, the other two games that she invented for Parker Brothers, King's Men and Bargain Day, received little publicity and faded into board-game obscurity. The newer, Parker Brothers version of the Landlord's Game appeared to have done so as well. And so did Lizzie Magie. She died in 1948, a widow with no children, whose obituary and headstone made no mention of her game invention. One of her last jobs was at the US Office of Education, where her colleagues knew her only as an elderly typist who talked about inventing games.
As Charles Darrow reaped the rewards of the game's success, Lizzie Magie's role in the invention of Monopoly remained obscure. But in 1973, Ralph Anspach, a leftwing academic who was under legal attack from Parker Brothers over his creation of an Anti-Monopoly game, learned her story as he researched his case, seeking to undermine the company's hold on the intellectual property. The case lasted a decade, but in the end, Anspach prevailed, in the process putting Magie's vital role in the game's history beyond dispute – and building up an extraordinary archive of material, which forms the backbone of this account.